Global inks manufacturer Sun Chemical and logistics service provider Den Hartogh Logistics have collaborated to design customised tanks to transport Sun Chemical's flush product for the publications industry. 

Sun Chemical has worked with Den Hartogh for more than 15 years to transport product, so when Sun Chemical looked to review the design of its equipment, Den Hartogh was the obvious choice of partner. Luis Pereira, Publications Supply Planner Europe at Sun Chemical explains: "We were looking to move from road only to intermodal transport, to increase efficiency and improve our environmental footprint. However, our current fleet was not suitable for the intermodal service." 

"We worked with Den Hartogh on a customised design for the tanks that would be suitable for either intermodal or just road transport, giving us more flexibility when choosing which mode of transport is most appropriate for the job we're working on." 

Initially Sun Chemical looked at replacing the fleet of eight tanks, but having identified the requirements for use of the tanks in another supply chain, eventually increased the number of replacement tanks in the new fleet to 16. Specifically tailored for flush product, the newly designed tanks, are an improved version of the standardised ISO tanks, which include the latest conical outlets and on board heating. Specific efforts were also made to ensure the tanks are correctly insulated according to the latest industry standards.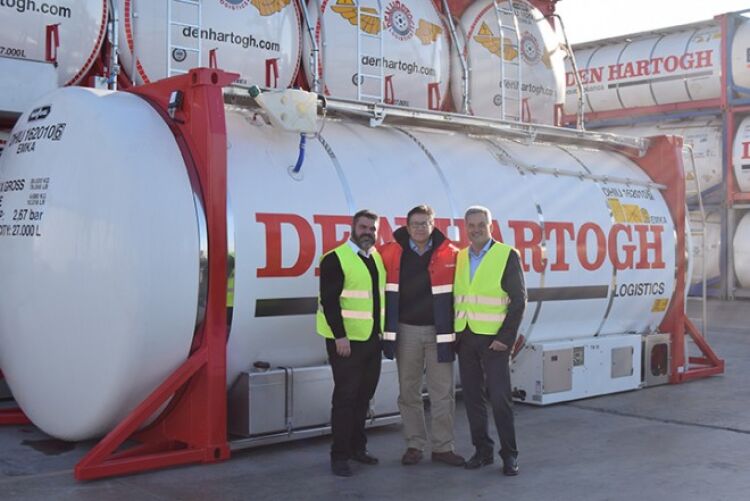 Luis Pereira (Sun Chemical),  Arturo Caton Moliner (Den Hartogh)  and Esteve Bosch (Sun Chemical).
During transportation the base product has to be kept at a consistent temperature because of its viscous properties. Whereas the temperature in Sun Chemical's previous tanks was controlled by a generator, the design improvements in the new tanks includes extra insulation, which delivers an increased insulation value of 15%, compared with the initial eight tanks, as well as a self-heating system, resulting in lower electricity consumption. The new fleet also has an increased payload of at least 19%, allowing Sun Chemical to transport more product at once, which in turn reduces the frequency of transporting product as well as their carbon footprint.

Since Sun Chemical has moved to intermodal transport, it has decreased its road mileage for transporting flush product by 72%, resulting in a reduction of their CO2 emissions. The new fleet has also enabled Sun Chemical to reduce its impact on EU road congestion. The increased demand in Europe for drivers also impacted Sun Chemical's decision to use intermodal transport as they are now less dependent on the availability of drivers and have more flexibility when looking to transport product.

The bulk transport system also provides a number of safety benefits as Arturo Caton Moliner, Commercial Manager at Den Hartogh, comments: "At Den Hartogh we place the same high degree of importance on safety as Sun Chemical does, so it was a top priority for us both in the design process. The specialised tanks reduce manual handling in factories for both the loading and unloading of the product. They are also operated entirely from the ground, so there are no requirements for drivers to climb on top of the units to unload product."

Luis Pereira concludes: "Since moving to intermodal transport, we have experienced a number of significant safety, environmental and wastage benefits, resulting in more efficient transportation. This investment highlights our continued commitment to the publications business, where we continually look not only at ways to improve our products, but also at the logistics of how we operate to ensure we provide the best service right across our supply chain. Our partnership with Den Hartogh is another example of how we are innovating in this business."