Rotterdam, 21 February 2023 - Royal Den Hartogh Logistics is excited to meet supply chain leaders to visit our booth at the LogiChem 2023 event in Rotterdam. As Europe's leading chemical supply chain event, LogiChem is the perfect opportunity for us to showcase our expertise in providing specialized logistics solutions for the chemical industry together with our partners.
Our team of experts will be available to discuss the latest developments in the industry and how we can help your business succeed. We will also be highlighting our innovative transport solutions, which enable us to offer flexible and cost-effective logistics services to our clients.
At our booth, you can learn more about our comprehensive range of services, including liquid chemicals and gas transport, as well as our state-of-the-art intermediate storage, third party fleet management, cluster services and on-site logistics. Let's discuss how we can tailor our services to meet the specific needs of your business.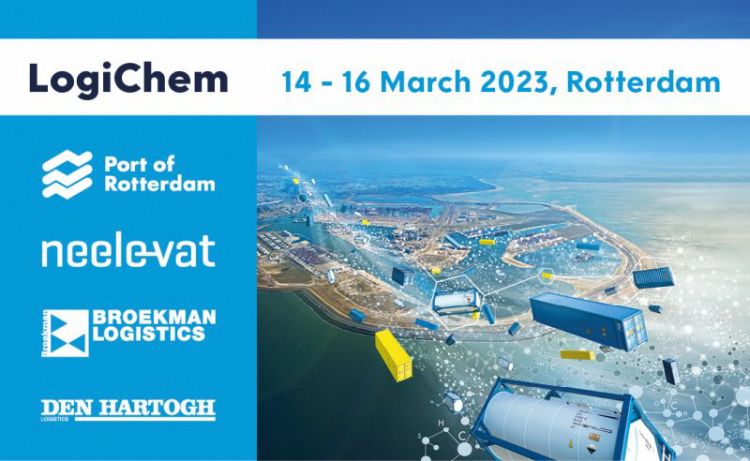 Jacco van Holten – Director Commerce Europe comments: "People, planet and partnership that is what LogiChem is all about. As leader in the chemical transport industry we have a serious ambition to be fully carbon neutral in 2050. This event is also about how we can do that together and continue to improve our service to you."
LogiChem 2023 will bring together some of the most prominent heads of supply chain and logistics from the world's leading chemical manufacturers, making it an excellent networking opportunity. We look forward to meeting you there and discussing how Den Hartogh Logistics can help your business thrive in the ever-evolving chemical supply chain industry. Make sure to mark your calendars for March 14-16 and stop by our booth at the LogiChem 2023 event in Rotterdam. Please register through the site of Port of Rotterdam to get a 10% discount. 
We can't wait to meet you! Please see the LogiChem website for more information: https://logichem.wbresearch.com/