Rotterdam, 1 August 2023 – Royal Den Hartogh Logistics goes beyond traditional logistics to facilitate innovation. In a recent collaboration, OCI Hyfuels called upon our technical expertise to fuel a newly constructed ship with MD97, a methanol fuel blend, at berth by truck, a task traditionally carried out with maritime fuel and dedicated bunker ships or trucks. 
The decision to fuel the ship with MD97 at berth reflects a departure from traditional methods, demonstrating the adaptability and progressive vision of the involved parties. Having successfully executed a similar operation in Aberdeen recently, Den Hartogh's expertise was called upon once more. Our excellent service and quality execution resulted in a highly successful operation, garnering praise from OCI HyFuels.
The project is an important step in the decarbonization of global shipping, paving the way for the increased use of methanol, and MD97 as a marine fuel. OCI HyFuels is a global leader in renewable and low-carbon fuels and the world's largest green methanol producer.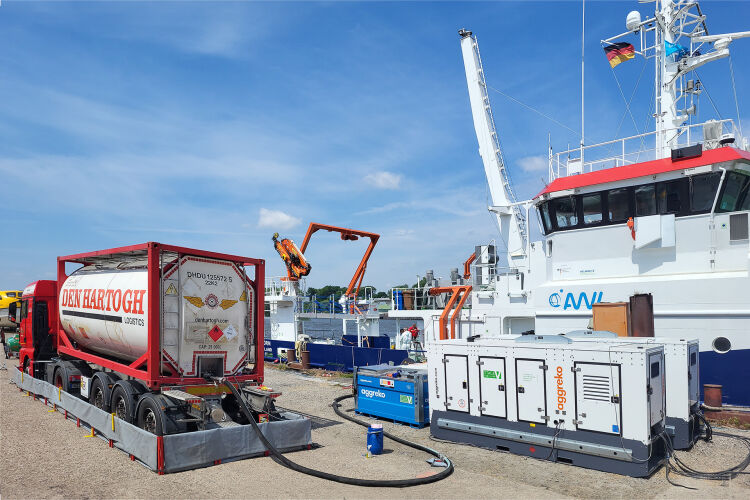 The ship incorporates a new engine type designed specifically to run on MD97. MD97 is a blend of 97% methanol with 3% of additives designed to give the blend diesel like properties, and is used in a methanol only rather than a dual-fuelled engine. By proving the use of MD97 as a marine fuel and paving the way for greater uptake of green methanol as a marine fuel in the future, this partnership offers a route to decarbonize the shipping industry, which is responsible for a noteworthy part of global greenhouse gas emissions.
This successful collaboration stands as a testament to the capabilities of our Technical Service department. Going beyond logistics and delivering innovative technical support with a primary focus to provisioning the ship safely. It represents an exciting new chapter for the entire industry, solidifying our position as a pioneer in advancing environmental sustainable solutions in the chemical industry.
Royal Den Hartogh Logistics remains dedicated to embedding safety and operational excellence in its culture, alongside an increasing emphasis on sustainable practices. As we continue to set the standard in logistics service provision, our forward-thinking approach is beneficial to our customers and instrumental in fostering a more sustainable future.
"Smarter Logistics. We're better together."